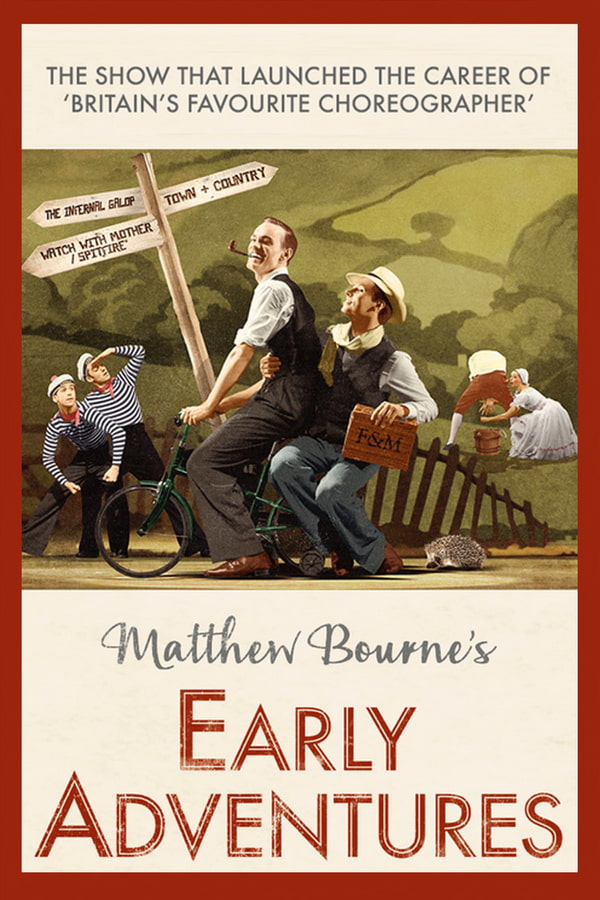 Matthew Bourne's
Early Adventures
Early Adventures is a compilation of some of Matthew Bourne's early works and originally toured in 2012 as part of the company's 25th anniversary celebrations. The 2012 triple bill included Spitfire, The Infernal Galop and Town & Country.
Early Adventures then toured the UK and to Madrid and Los Angeles from February to May 2017 as part of the company's 30th anniversary celebrations and included The Infernal Galop, Town & Country and Watch with Mother.
Spitfire
'an advertisement divertissement'
Bourne's first hit in 1988 that hilariously places the most famous 19th century ballet show stopper in the world of men's underwear advertising. (2012 tour only)
The Infernal Galop
A French dance with English subtitles
This is France as seen by the uptight English imagination, with all the traditional clichés joyously paraded for our entertainment and climaxing in Offenbach's inevitable Can-Can!
Town and Country
Lie back and think of England…
Moving and hilarious, this heartfelt pastiche explores notions of national character from a bygone era through the evocative music of Edward Elgar, Noël Coward and Percy Grainger, amongst others.
Watch with Mother
Seen but not heard?
Conkers, Hopscotch, Doctors & Nurses; Children's games can be all-consuming, competitive and sometimes cruel. Based on Joyce Grenfell's famous "Nursery School" sketches ("George… Don't do that") and set to Percy Grainger's own piano compositions and arrangements of Bach and Faure, this 1991 piece returned after not being seen for 25 years.
Visit this website for production shots and general information about the show.